Well after my full-time employment with WJCT (Jacksonville's PBS and NPR public media station) ended, they approached me with the opportunity to redesign and redevelop their primary website to align with their shifting focus as an organization.
After consulting with various stakeholders from different departments at the station about the priorities, needs, and desires for the website, I collaborated with the creative director at WJCT to flesh out the user experience of the new site and determine a direction for the user interface. After that, I went through several iterations of the design in Adobe XD until I found a design that worked for the client.
After we reached an approved design, I began building the site. Years prior — when I was still employed at WJCT — I had moved the site to WordPress, which seemed to still be working quite well for them so I decided to stick with it. Something I consider to be very important in today's websites is integration with other aspects of a company's web presence, which in the case of WJCT meant being able to connect to and display information from a variety of sources: NPR (for displaying local and national stories), PBS (to show elements of WJCT's TV schedule), and YouTube (for cross-platform promotion and showing the latest uploads).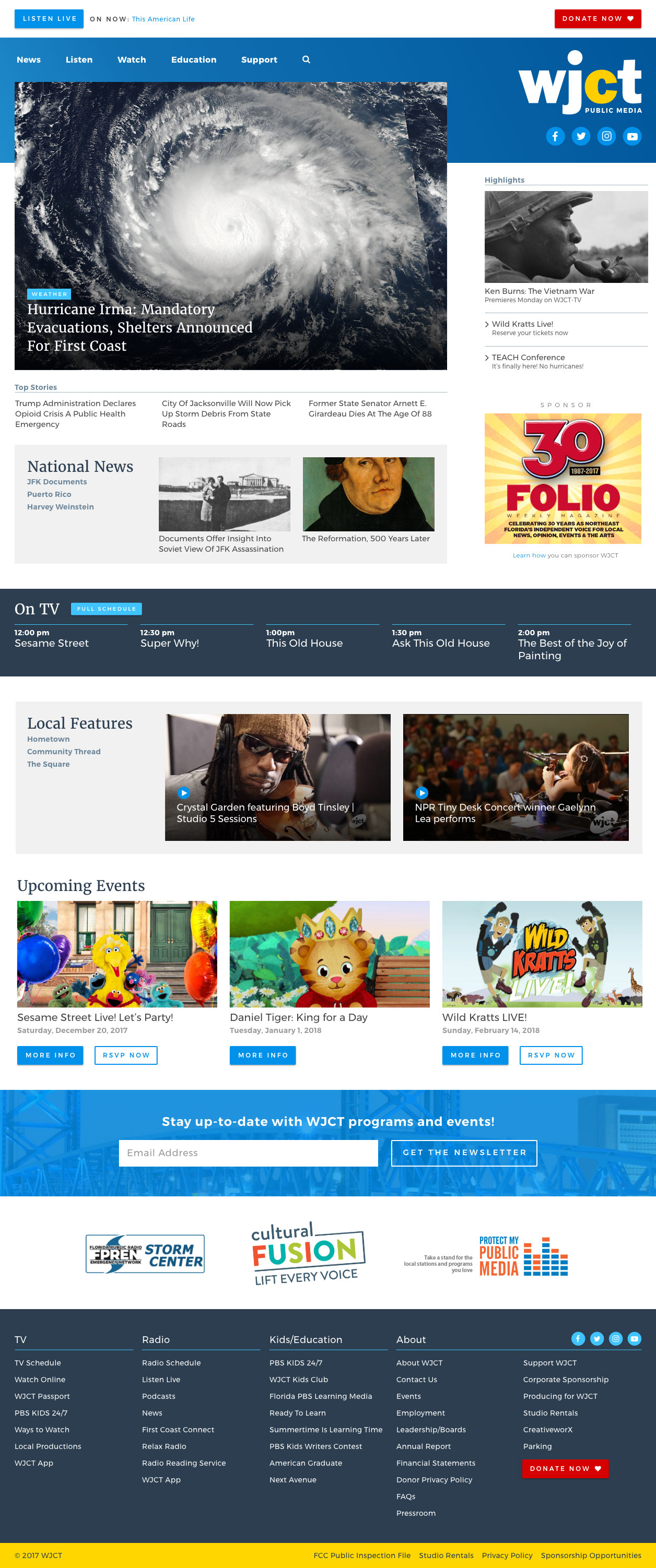 These items were integral to WJCT's mission as well as engaging their well-informed audience, and while some of these connections were aided by existing WordPress plugin infrastructures, others necessitated that I build integrations myself. Such was the case with the PBS TV schedule API, for which I wrote a WordPress plugin to interface with the API and return upcoming airings on WJCT.
Balancing the priorities of a TV and radio station with a thriving news department and no shortage of community outreach initiatives is a never-ending task, but the goal with this project was not to simply strike a compromise between these priorities, and instead to elegantly present each of them in a way that made sense for the content and helped deliver traffic, awareness, and success to this multidimensional media organization.
Note: Since the full rollout of the redesign, some elements on the site have been added, changed, or removed that have altered the original experience somewhat. The screenshots pictured in this post are accurate as of the live rollout.